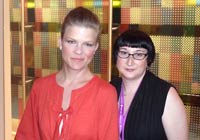 This year's NeoCon was a success on many different levels. Even though the general consensus is that contract interiors are still affected by the economic downturn, the many people and markets of design that converged during the show didn't seem overly concerned about the future. We have all survived the worst, hopefully, and now it's time to see what's next for all of us.
Many showrooms at the Merchandise Mart looked bright and cheery, especially Haworth partnering with Clive Wilkinson Architects to design an energized space that showcased the wonderful Kvadrat product called Clouds that was hovering above their pool. Clouds is a series of modular interlocking fabric tiles that evolve as elements are added to it. The end result is a unique three dimensional sculpture for the wall or the ceiling. Haworth also cleverly color-coded a map of their showroom that depicted four different styles of office design and ways of working. The different sections focused on social collaboration, strategic thinking, presentation and tactical execution. The intention is that an ideal working environment contains each one of these four elements.  Stylex had another great looking showroom that celebrated the organic nature of corrugated cardboard. Their fantastically designed and timeless new Sava chair was wonderfully contrasted with the texture of the cardboard. Conference and task chairs were placed in nooks carved out of the corrugated material, which will hopefully be recycled after the show.
Many product ideas presented at this year's NeoCon were transformative in nature; doing more with less isn't just a way to deal with the present times, it will be a way of life for many of us for years to come. Halcon premiered their wonderful new Proximus line of casegoods, designed by Gary Lee Partners. This product rethinks the workwall while giving each user's personal preferences unprecedented flexibility. Using monolithic panels in front of a flexible modular storage system, Proximus assists executives to cut down on their multitasking by utilizing an "out of sight, out of mind" approach. The panels can slide to hide the vertical storage and allow users to focus just on one task at a time if they choose. The solution seems a win-win for designers as well as their clients – the product looks like millwork paneling but performs in a way that busy clients are used to working. Reducing the importance of horizontal surfaces to accommodate a smaller office footprint, the full line of Proximus seamlessly fits the different needs of private office, secretarial and conference spaces while still retaining a distinctive look and hierarchy.
To view the full article, please go to officeinsight