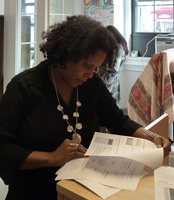 A recent officeinsight article reporting on a lecture by John Peterson of Public Architecture (see OI 11.22.10 The Power of pro bono: Teknion Sponsors Public Architecture in Atlanta) outlined the process and incentives a design firm may experience by working pro bono for a non-profit organization.
One of Public Architecture's services is to match non-profit organizations with design firms across the country that are willing to give a portion of their services pro bono; the process is managed through a program called The 1%. At its heart, this elegantly simple idea breaks down to individual design professionals donating one percent of their eight-hour work day – only 4.8 minutes – to a pro bono design project. Effectively adding up that small portion of time, especially when multiplied by the number of employees in a given firm, turns a slow drip of contribution into a steady flow of design assistance for a non-profit organization that would not normally be able to afford it.
Public Architecture's idea is so straightforward and compelling, a further investigation of the process in a real-world application was unavoidable. The story that follows contains a series of lucky breaks, generous individuals, and a community coming together for a great cause.
Most interior design opportunities start with a new lease, and pro-bono work is no exception. The Girls for Gender Equity (GGE), a non-profit organization located in Brooklyn, NY, had a chance for a fresh start in a new location – if only they could find a designer that shared their vision for a clean slate approach. Operating on a shoestring budget for the last nine years, GGE's first priority has been to service the people in their community, not attend to the condition of their facility. Past donations of furniture were most appreciated, yet the resulting layout within GGE's office space was cramped and had no visual continuity.
For the full article, please visit officeinsight.com